The skills shortage in the UK continues to bite, with the KPMG and Recruitment & Employment Confederation UK Report on Jobs survey highlighting softer rises in hiring activity as candidate shortages are restricting the growth of both permanent and contract hires.
Our recent LinkedIn poll explored this further, we asked our client base 'Have you been affected by candidate shortage/are you struggling to hire?' 84% of respondents confirmed that they are finding it difficult to recruit the talent they need.
When it comes to field service engineering recruitment, this trend is not new. All the way back In 2012 Manpower Group reported that 'At a global level, vacancies for skilled trades workers top the list of the most difficult positions to fill'. In the same report 'Engineering' was listed as the second most in-demand category.
A skills shortage occurs when there is a negative gap between the skills a company needs for their business compared to the amount of talent available to do these jobs. It's important to recognise the reasons for the shortage before exploring the strategies that can help overcome the challenges in the industry. Some of the factors affecting the skills shortage include
​Market growth – ReachOutSuite's infographic, shows global field service market growth. From $1.78 billion in 2016 to a projected $4.45 billion in 2022. This rapid growth has heightened the need for field service engineers, not even taking into account the factors that follow…
Lack of investment in apprenticeships – With the drive since the 1980s to get more young people through the university system, and to remain in higher education, the investment is apprenticeships was really lacking. Traditionally vocational and technical qualifications and on-the-job practical training have been the route by which people enter the field service profession. There has been a rebirth in apprenticeships following the increase in university fees but this is not yet providing the number of skilled technicians needed to close the skills gap.
Lack of training in schools – Negative perceptions of skilled workers and vocational training can be traced right back to school. Poor careers advice in school coupled with diminishing investment in practical courses in design and technology for example, means that careers in engineering are not on the radar for young people when they are making decisions about their future training and careers. Whilst work is being done to improve STEM education, this is not happening quickly enough.
Ageing Workforce and Retirement – with a lack of new entrants to field service engineering, the skills gap is being felt more keenly as the COVID-19 pandemic led to more people retiring early or considering early retirement, as they began to re-evaluate what's important in life, this was especially true of those that were in 'contact heavy' industries such as FSE.
Brexit – As well as more retirees, Brexit and COVID has also led to a decrease in potential FSE employees – There has been an increase in migrant workers returning home due to as the right to work in the UK becomes harder to achieve and the benefits of it, less substantial anyway .
Low Pay – There is a perception that Field Service Engineering is poorly paid. It often involves shift working, extensive travel and dealing with customers and workers expect for their time and effort to be properly rewarded.
​
How can we address the skills shortage?
1. Educate children
It feels like we have lost a generation of children who didn't see Field Service Engineering as a viable career. The good news is that there are signs that things are in place to stop this happening again. More emphasis is now being put into teaching children as young as primary age the importance of STEM (science, technology, engineering, and maths) subjects and the huge impact they can have on the world. As UCAS report a result 'acceptances to engineering courses are up 21% from 25,995 in 2011 to 31,545 in 2020,', this has reduced the amount of young people viewing higher education and Field Service as two entirely different things and as a result is helping improve the perception of Field Service Engineering. The emphasis on Engineering as a viable career choice must continue.
2. Offer fair pay
How do you ensure you are offering an employee a fair wage? Think about everything they do and try to understand if they weren't here to do it then what effect would this have on your business. In these times of candidate shortage, if your field service engineering professional was to leave the business tomorrow then it would be hard to find someone else, especially if you aren't offering an appropriate wage which is in line with the responsibilities they have.
We recommend a pay review for your employees to ensure they don't leave. Why not use online tools such as Glassdoor to try and understand market rates or work with a recruitment partner who can help you to understand how much you should be paying in order to attract the right people. Don't forget that you will discover the 'average' salary. Pay more and you can expect to attract a better level of candidate.
3. Embrace technology
As the baby boomer generation retire, the experience they have will be lost too. There are ways to counter this using modern technology. Pairing up less experienced staff members with and established mentors will help with skills transfer. and technology is there to help this to happen without the two parties needing to be in the same place.

4. Increase training
Research shows that millennials and Gen Z workers expect their employer to invest in them. One way an employer can do this is to offer continued training and development throughout their tenure. If an employee feels undervalued, they are more likely to leave their job. A way to show you care is by continuing to upskill them, the benefits of this are massive. You will ensure you have a happy worker as well as having the most up to date skill set for your business.
5. Better benefits
The latest generation also has very different expectations of their workplace compared to generations gone by. They care more about the values of a company and their impact on the world. If companies are to attract younger professionals into the marketplace it's important that they share these values and allow individuals to get involved and have their say. They also expect more flexibility and an improved work life balance. If the field service engineering industry is to compete with other industries then it needs to be willing to offer these as standard.
​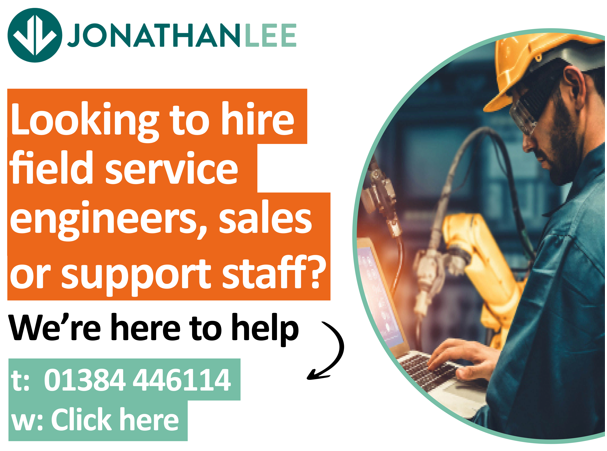 Jonathan Lee Recruitment has been supporting Field Service Engineering professionals and businesses nationwide for over 40 years, matching quality candidates with leading companies. We understand the current candidate shortage being felt across the board and we have the knowledge, experience and contact pool to help clients through challenging times.
Click the link to find out more about our Field Service Engineering recruitment services.
Solutions through understanding