​Jonathan Lee Recruitment is delighted to have been recognised with not one but two awards to kick-start 2023!
​
Most Trusted Engineering & Technical Recruitment Consultancy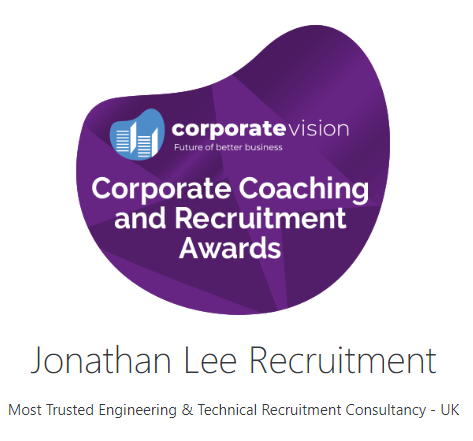 As part of Corporate Vision Magazine's 2022 Corporate Coaching and Recruitment Awards, Jonathan Lee Recruitment has received the award of Most Trusted Engineering & Technical Recruitment Consultancy – UK.
In the words of Corporate Vision Magazine – ' These businesses are making a dramatic difference to others with their invaluable expertise, creating a better world for all.
Corporate coaching and recruitment are essential segments of the business landscape, enabling us to keep our fingers on the pulse as we continue to grow.'
Awards Coordinator, Laura O'Carroll comments, "We are pleased to announce the winners of this year's Corporate Coaching and Recruitment Awards. Not only are they blossoming, but they are helping others to do the same. Congratulations!"
Thanks, Laura and all who voted for us!
To read more about our Most Trusted Engineering & Technical Recruitment Consultancy click here.
​
​
Top Staffing Companies To Work For In 2023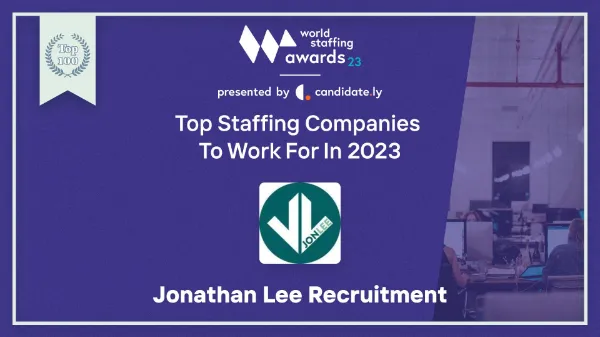 Each year, Candidate.ly selects the top staffing companies to work for, and we're delighted to have once again been recognised at their World Staffing Summit Awards.
We believe it takes a dedicated team of brilliant people to make our vision possible. We're always looking to improve and to do this we employ great people who share our values of quality, excellence and teamwork.
At Jonathan Lee there are no boundaries for people with ambition and enthusiasm – we're committed to providing all employees with learning and development opportunities to support career development.
If you are interested in joining our award-winning team visit https://www.jonlee.co.uk/join-us
​
Our mission is:

So to have been recognised with these awards means we are on the right path to making this happen.
From day one (Nearly 45 years ago!), the business has encouraged a spirit of evolution and enterprise and this continues to be a driving force at Jonathan Lee Recruitment.
The world of engineering, manufacturing and technology is transformed and change continues apace and we have adapted to meet the challenges of finding people with the right digital skills to support the future of UK PLC.
We work with industry partners and initiatives and continue to invest in the very best recruitment technology to support our consultants in providing a premium service to our clients, candidates and contractors.
​
Thanks to all of our fantastic team, clients and candidates who voted for us as part of these awards!
Interested in discovering more about the wide range of client services we offer at Jonathan Lee Recruitment? Visit Our Recruitment Services page.
​
Solutions through understanding