​Life is a series of milestones, and when it comes to celebrating achievements, there's nothing quite like a mouth-watering feast and an inspiring speech to mark the occasion. This was precisely the case when we celebrated our remarkable 45th anniversary on 1st June 2023. The festivities took place at the vibrant Rainbow Palace Chinese Restaurant in Stourbridge, and it was an afternoon filled with joy, laughter and an exciting glimpse into the company's rich history and future plans.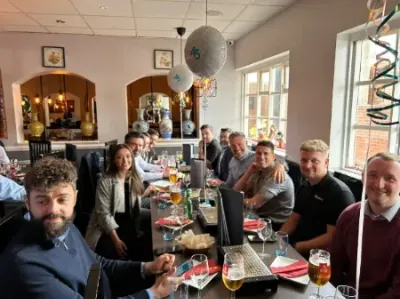 As lunchtime began, the Rainbow Palace welcomed the Jonathan Lee Recruitment team with open arms. The stunning décor, adorned with Jonathan Lee's celebratory 45th anniversary balloons, instantly set the mood for a celebration. The venue's warm ambience perfectly complemented the lively atmosphere, as the staff served a fine selection of delectable Chinese favourites with a smile.
The highlight of the afternoon (alongside the amazing food) came when our esteemed Chairman Jonathan Lee, took delivered a wonderful address to the whole business. He spoke about the company's humble beginnings in his front room, took us through the many good times and bad times (three recessions and a pandemic!) right up to the modern day and recent opening of our new premises in Shropshire's Agri-Epi Centre. Eeach milestone was a testament to the hard work, dedication, and unwavering commitment of the entire team.
Jonathan's speech wasn't just a trip down memory lane; it was a vision of what lies ahead, he also outlined the company's plans and strategies for the future. He emphasised the company's commitment to embracing cutting-edge technology and innovation whilst keeping the unique family culture that has been at the heart of Jonathan Lee for the past 45 years.
Jonathan spoke with pride about his staff over the years, mentioning the fantastic long service of his current staff (many of whom are approaching 20, 25 and 30-year work anniversary milestones themselves) and taking time to remember staff members that have long since retired.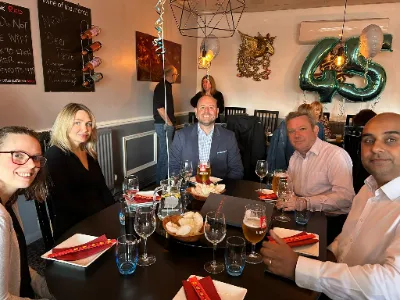 He also took time to pay tribute to the company's Managing Director David Hale for his brilliant leadership over the past 25 years and celebrated the work of the company's Directors since they took on their Directorship in 2021.
Grant Nisbet, Jonathan Lee Director concluded by presenting Jonathan with a card and a gift to mark the occasion.
The jubilant atmosphere at the Rainbow Palace mirrored the strong bond and camaraderie shared among the Jonathan Lee Recruitment team. Laughter echoed through the restaurant as employees celebrated the shared victories and milestones that have shaped the company into what it is today. The event served as a reminder of the importance of teamwork and collaboration, as well as a well-deserved tribute to the hardworking individuals who have contributed to the company's success.
Thanks to all at the Rainbow Palace for a wonderful afternoon. Here's to another 45 years of success and celebration!
To discover more about Jonathan Lee Recruitment's 45 years of success, read our blog: Celebrating 45 years of Jonathan Lee Recruitment
​
​
​
Solutions through understanding